Trekking and Expedition
Across Toubkal
The greatest way to experience the High Atlas adventure is to continue overnight for a 2 night or more.
Trek tour and stay
For many people, the opportunity to trek in the High Atlas is Toubkal: the world's greatest mountain scope in south of Morocco.
Whether it's a varied cultural journey, a classic trek or a challenging high altitude voyage, Toubkal national park is the premiere destination for anyone looking for a distinctive and impressive trip of a lifetime! It's safe, close and not expensive.
Guided mountain trek
trekking in the High Atlas takes you into the world of the Berbers in the mountains of Morocco. With mules they wander through the highest mountains in North Africa and climb the highest peak, Jebel Toubkal ( rise 4,167 meters).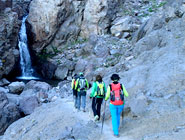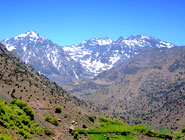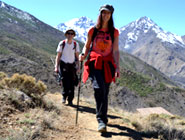 Highlight and note:

• Easy trek in the High Atlas in Morocco.

• Portage of luggage by mules during the trek.
• Highest Summit ascent: Jebel Toubkal 4167m.


• Overnight in tents or in simple local house.